Commercial Solar
Solar is the No. 1 choice for your business!
Solar Technology Australia designs and installs both grid-connect photovoltaic (PV) systems. We have experience with systems ranging to 1mW.
Our installations are of the highest standard through being installed by in-house Clean Energy Council (CEC) accredited installers with all installations strictly adhering to Australian Standards and CEC Guidelines.
We only use high-quality products from our suppliers such as SMA, Trina Solar, Fronius, Enphase, Clenergy and Winaico. High-quality products and fine workmanship is the key to a successful solar PV installation.
Investing in a solar PV system delivers excellent financial returns with rebates as well as enhanced environmental marketing opportunities. Solar PV systems are an ideal solution for businesses to local schools due to the consumption of energy generated will maximise the savings on your electricity bill.
Using our team of in-house CEC accredited electricians and engineers, Solar Technology has installed over 50mW since the establishment of Solar Technology Australia in 1993.
Thinking about installing a solar PV system for your business? Check out our 30kW system package deal below:
We will design a system to suit your requirements. Contact Solar Technology Australia to obtain your free quote today!
CASE STUDY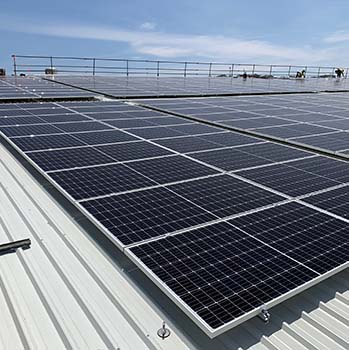 Charles Stuart University Bathurst | February 2021
Solar Technology Australia installed a 919.45kW solar PV system at Charles Stuart University Bathurst campus where we installed the system over 22 buildings.
There were 2485 JA Solar JAM72S03-370/PR (370W) solar modules and 40 Fronius inverters installed across 22 of the buildings throughout the campus. Also, included is a Solar DB incorporating Easyprotec grid protection relays.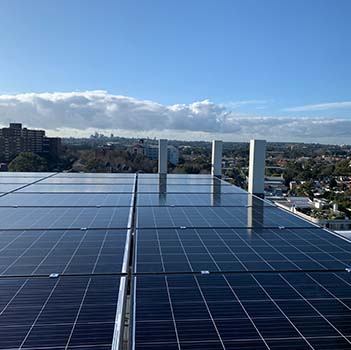 Inner Sydney High School | October 2020
Solar Technology Australia installed and commissioned a 19.5kW solar PV system at Inner Sydney's High School.
For this system we utilised 60x Winaico 325W solar modules and a SMA STP20000TL inverter. The solar modules were mounted flushed to steel mounting structure of the building using Clenergy's products.
Inner Sydney High School is a multi-storey school located in Surry Hills and is one of Sydney's first "vertical" schools. The solar modules were installed so as to generate electricity for the school as well as provide shade for the roof top "teachers' getaway" area.
The system is expected to generate more than 23,880kWh per year and will significantly reduce CO2 emissions each year that the PV system connects the sunshine!